Mechanical Galvanizing
In Mechanical Galvanizing a thick coating of zinc provides sacrificial or cathodic protection to the steel fastener. Because zinc is more reactive than iron, the zinc coating "sacrifies" or corrodes first, protecting the steel substrate. The rate of corrosion of zinc is atleast 10 times slower than that of steel, thus a thin coating of zinc can protect the steel for a long time.
Mechanical Galvanizing results in a very uniform coating thickness reducing thread fit issues at assembly, making it a preferable coating for structural applications. Not only does Mechanical Galvanizing provide excellent coating uniformity, but the process is consistent from batch to batch and within each batch, as thickness depends only on the amount of zinc powder.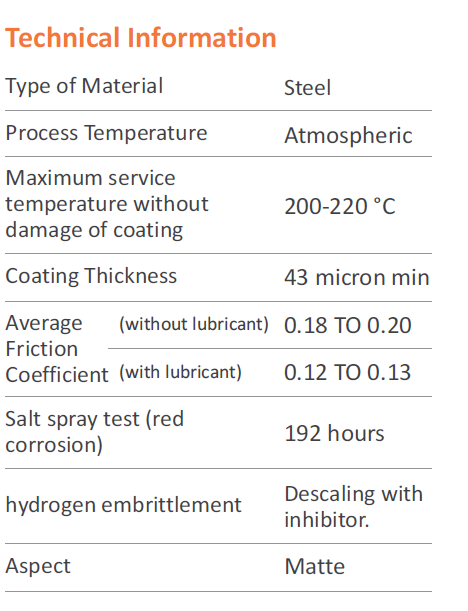 Mechanical Galvanizing is done at room temperature. Fasteners are placed in a large rotary barrel along with zinc powder, special promoters and glass impact beads. The mechanical energy generated from the barrel's rotation is transmitted through the glass impact media that blast the fastener surface with zinc particles. This causes the zinc powder to be mechanically welded on to the surface of the fasteners. With a proper glass media size mix, all exposed surfaces can be coated very uniformly, and the buoyancy of the glass media cushions the fasteners in the rotating barrel to minimize thread nicking. The room temperature process ensures no chance of re-tempering or softening high strength fasteners and guards against hydrogen embrittlement because the fasteners are also never exposed to acid pickling in the process.
In contrast to hot dip galvanized nuts, mechanically galvanized nuts are tapped oversized prior to coating, which results the thread to be coated during plating process. Thus the parts are ready to use without any further processing. Further, because of the composite nature of mechanical coating, this naturally lubricated coating does not gall, producing more accurate Torque - Tension Relationship.
Mechanical plated parts may be given a post-plate treatment of dichromate dye for color - coding, and phosphate for improved paint adhesion and waxing.
Mechanical Galvanizing may be used on a wide range of structural products including ASTM A325 Structural Bolts, A563 Grade DH, Heavy Hex Nuts, A307 Bolts & Studs, A449 Hex Cap Screws, F1852 Tension Control Assemblies and F436 Hardened-Steel Washers, DIN 6914, DIN 6915, DIN 6916 and for small diameter bolts, as well as fine thread bolts, among others.
Unbrako is TS 1649 & ISO 9001 registered and our laboratory is NABL certified. At Unbrako, we take a number of precautions to ensure that our fasteners meet or exceed governing specifications. Further,full traceability to original manufacturing lot number is available.